Prologue
Jill and I signed up to do a one week bike and barge trip from Amsterdam to Maastricht in the Netherlands with Pegasus Bike Tours.  Amsterdam is in the western part of the Netherlands about halfway between the northern and southern boundaries, while Maastricht is in the extreme southeast corner of the country, sandwiched between Belgium and Germany.
Contrary to popular belief, Holland is not synonymous with the Netherlands, although Holland is frequently used, and largely accepted, as a designation for the country.  In reality, Holland consists of North Holland and South Holland, which are two of the twelve provinces in the Netherlands.
The distance from Amsterdam to Maastricht by driving is about 132 miles (220 kilometers).  One can easily drive between the two in under three hours.  We are going to take six + days to ride between the two cities, meandering extensively along the way.  Our itinerary is:
Riding Day 1:  Amsterdam to Weesp – just a get acquainted/warm-up ride (15 km)
Riding Day 2: Weesp-Utrecht-Vianen (62 km)
Riding Day 3: Vianen– Gorinchem–Heusden (41 km)
Riding Day 4: Heusden – Cuijck (40km)
Riding Day 5: Cuijck – Arcen (48 km)
Riding Day 6: Arcen – Venlo – Roermond (50 km)
Riding Day 7: Roermond – Born – Maastricht (42 km)
If you do the math, this results in a bit over 300 kilometers of bike riding, or 43 kilometers per day.  In other words, pretty light-duty riding.  Especially since most of the Netherlands is nearly as flat as the proverbial pancake.  The trip is advertised as a sightseeing tour of the Netherlands by bicycle, as we will stop frequently to view the sights, visit castles, gardens and picturesque villages.  By night, we will be on a Dutch barge – the Lena Maria.
Day 1 – Wednesday
We left our house on Bainbridge Island at noon to catch the Island bus to the ferry.  From the ferry, we walked to the Pioneer Square Light rail station to catch the train to the airport.  Our trip to Europe got off to an inauspicious start as Jill, in a semi-frantic effort to catch a just-arriving light rail car, failed to swipe her Orca card prior to boarding the train.  We were seated in the front of the rear-most car.  As luck would have it, a security officer boarded the train at the next stop and proceeded to check everyone's ticket, working his way from the very rear of the car forward.
Jill turned to a fellow passenger, muttered that she had not purchased a fare and asked the lady if one could just pay on the spot.  Her traveling companion, answered that no, that was not an option.  The fine was $124 for not having a valid fare.  Luckily we were just arriving at the next train stop and the officer had not yet worked his way to our seats.  So Jill and I grabbed our bags and hastily exited the train.  Jill then dutifully paid for her ticket and we re-boarded the next train a couple of minutes later.  So, all in all, we escaped disaster and the rest of the trip to Europe was without incident.
I should mention that we had originally booked a low-budget flight to Amsterdam via Iceland Airlines with a stopover in Reykjavik.  One day before our scheduled departure, we received a text from IcelandAir stating that due to "operational issues", our flight to Amsterdam had been re-booked on Delta Airlines with a non-stop flight to Amsterdam.  Yay!  The Delta flight was full service, plus we had two seats right next to each other (window and aisle).  Unfortunately, though, neither Jill nor I slept very much on the flight, so we arrived in our usual tired state.
Day 2 – Thursday
Our flight landed in Amsterdam (Schiphol airport) about 1:00 PM local time as scheduled.  We took the very convenient train from the airport to Central Station Amsterdam.  As our hotel was only about 0.5 km from the train station, we rolled our bags over the cobblestone sidewalks to the hotel without much difficulty or effort.  Crossing a street, one must be ever mindful of the often silent or nearly silent trolley cars, bicycles, motor scooters and cars zooming by.
Normally I resist taking any sort of nap after landing in Europe under the belief that this type of approach helps in adjusting to the time change.  This trip, however, both Jill and I took a short nap after checking-in.  I set the timer for 30 minutes, though, and it worked quite well.  We both slept – just enough to recharge a bit.  We felt energized enough to explore the neighborhood and try some of the local beer.  My newfound conclusion is that a short nap may be the better way to go, as we both stayed awake until 9:00 PM and slept pretty well through the night.
Day 3 – Friday
Today is Friday – our first full day in the Netherlands.  The day dawned sunny and beautiful.  After enjoying an in-room Nespresso, we were charged up and ready to go.  To breakfast, that is!  Within a couple of blocks of the hotel we found a breakfast place doing a fairly brisk business.  We sauntered in and were immediately seated.  Jill and I both ordered the vegetarian breakfast.  What a mistake!  No – not because it was vegetarian, but because it was enormous!  We could easily have gotten by with splitting a single order.  Oh well, now we know better.
After breakfast, we decided to do the Rick Steves Amsterdam Walking Tour.  The tour starts at the Central Train Station and has about an hour of talk time.  We easily spent about two hours walking the tour, though, taking our time to browse and enjoy the sights.  It was a delightfully warm day and we were soon in T-shirts.
Following the walking tour, which ends nearby, we bought tickets to the world-famous Rijksmuseum.  The museum is immense and even though we spent several hours there, we didn't have the time or energy to see most of the exhibits.  We focused mostly on the works of the Dutch masters – many of which are truly amazing creations.  Not only is the quality and realism notable, but the scale of some of the paintings is mind-boggling.  Anyone visiting Amsterdam should surely budget some time to visit this outstanding museum.
After the Rijksmuseum, we wandered around the streets a bit more before stopping for a bear break.  We had discovered Affligem beer the previous evening (a Belgian beer) and decided we both really liked it.  Affligem beer supposedly owes its origins to six knights who gave up fighting in order to form an abbey in 1074.  The abbey monks began brewing beer around 1129, per the earliest known recordings.   Today, a lot of Affligem beer is evidently sold and the label is owned by Heineken International.
Day 4 – Saturday
Today was the start of the biking portion of the Bike and Barge tour.  We checked out of our hotel about 9:00 AM as we had to be at the Amsterdam Oosterdok, where the Lena Maria barge was docked, by 10:00 AM to meet up with the other tour members who were planning on visiting the World War II Resistance Museum.  It turned out that everyone participating in the tour (all 23 riders) had elected the optional museum visit.
Ralph Nussbaum, our tour leader, grew up in Amsterdam and his father had been active in the resistance.  Needless to say, visiting the museum was an educational and poignant experience.  I learned things that I had no idea had occurred – just a few years before my own birth.
Back at the Lena Maria, we departed about 2:00 PM for Weesp on a very hot afternoon for the Netherlands (91 degrees F).  We all then suited up and headed out for our first group ride  The purpose of the ride was to "dial in" our bikes.  That is, get the seats and handlebars adjusted for maximal comfort.  We also reviewed the Dutch biking rules and practiced riding on the bike paths and roads.
As I had spent considerable time in the Netherlands during my working career, I was familiar with Holland's world-class biking network.  In the Netherlands, bicycling is heavily encouraged and supported.  Independent bike paths are ubiquitous.  Quite often a biker does not need to worry about sharing pavement with a car, as the biking path is physically separate from the road and even the pedestrian pathways.  This is not always the case, however, so it was important to learn the rules of the road in terms of who has the right away an what the various signs and symbols mean that one is likely to encounter on a ride.
Even though it was warm, the ride was pleasant and the sights were delightful.  We even saw our first windmill.  Below are a few shots from our first Netherlands biking experience.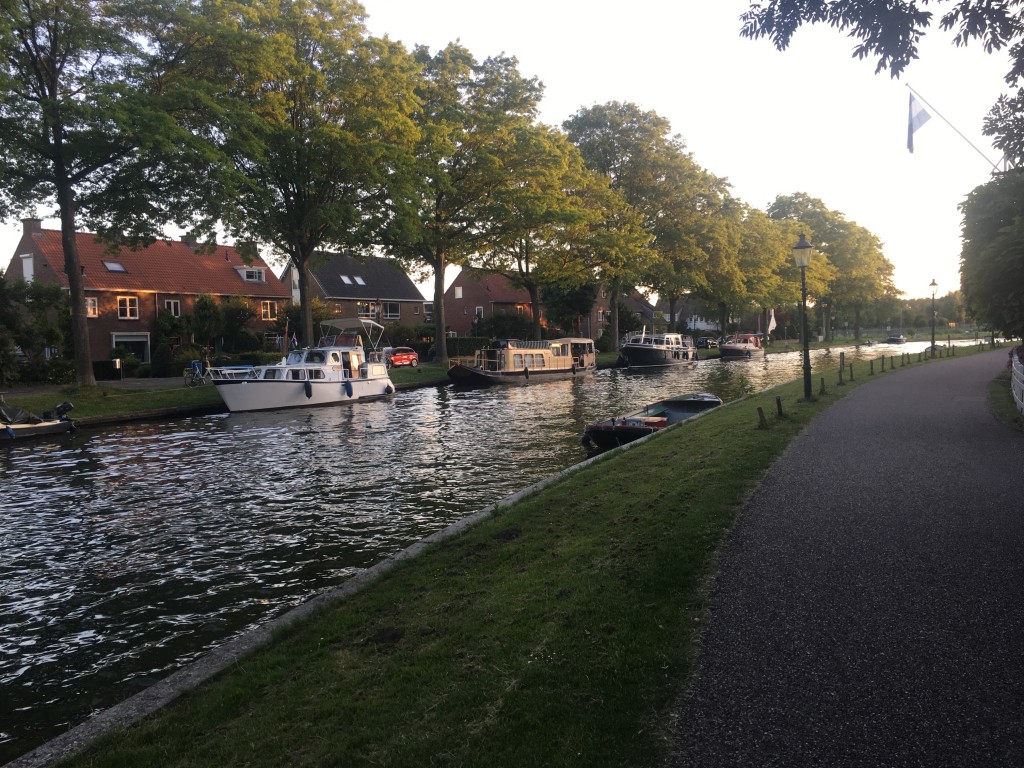 Day 5 – Sunday
This turned out to be the longest ride of the week – from Weesp to Vianen, which is 62 km.  Most of the group actually rode a shorter course of 47 km, but eight of us chose to follow Ralph on an "extra credit" ride of 15 km.
The day was much more comfortable temperature-wise; about 75 deg F by mid-afternoon.  This part of the Netherlands was notably pristine.  Everything looked to be in exceptional order – lawns impeccably mowed (where there was grass), flower beds meticulously trimmed, houses in excellently maintained condition, etc.  Several of us commented on how prosperous and exemplary this part of the Netherlands appeared.
Nowhere did we see signs of run-down or abandoned buildings.  Nowhere did we see garbage and liter strewn about.  The view from our bike paths was almost Utopian.  Mothers riding their bicycle with a baby in a front compartment.  Young school children riding around together.  Occasionally one sees a couple holding hands while riding together side-by-side on two bicycles.  Many "old" people (men and women alike) ride bicycles in the Netherlands.
The highlights of today's ride were a stop in a small cheese-producing farm just before lunch and mid-afternoon stop and walking tour in the Centrum of Utrecht.  Centrum, as one can easily conclude, means the town center and is very typically the older, often medieval, location where a town first grew.  Also quite typically one will find the remains of walls (where they still exist) in and around the centrum.  The Utrecht Centrum is quite old and actually dates from Roman origins.
Day 6 – Monday
Today was a our second full day of riding.  The daily patterns was becoming pretty well established.  We all meet for breakfast on deck of the Lena Maria prior to the ringing of the breakfast bell at 8:00 AM.  We then queue up for a basically all you can eat breakfast of multiple types of bread, vegetables, cheese, sandwich meets, eggs, fruit, cereal, yogurt, juices, jams and other items.  We also assemble our lunch from the same provisions.  From day-to-day, the types of eggs vary (scrambled, fried, hard-boiled) and other substitutions come and go.  We were encouraged to mix-up the seating so that we could get to know all of our traveling mates.
The Lena Maria is also equipped with a super-fancy coffee machine that produces at least eight types of coffee-based drinks directly from whole coffee beans.  This machine likely retails for multiple thousands of dollars, as we saw much less sophisticated machines for sale later in Amersfoort, which were selling for over three thousand euros.  The coffee machine was available 24 hours a day as were an assortment of teas and iced water.  Every morning, long before the breakfast bell was sounded, the early risers were to be found on deck enjoying a fine coffee beverage.
After breakfast, we would then gather at 9:00 AM for the start of the daily riding.  After the first (and only) exceptionally warm day we had, most days started on the cool side, so we would typically layer up to start.  In the seven days of riding, though, we didn't have a single drop of rain, so all that rain gear we were instructed to pack was never used (thankfully)!
We typically separated into two riding groups – one led by Ralph and the other led by Patrick – a local Dutch guide.  We would all meet up about an hour and half into the ride to take a rest break, have coffee and see some local sights.  The break would last about a half hour then it was onward to the lunch destination.
Everyone is likely wondering how strenuous the riding was.  It wan't.  As I mentioned at the beginning, the tour was billed as a sight-seeing trip on a bicycle.  That is accurate, as the group rode at a very comfortable pace of about 10 miles per hour with plenty of pull-over-by-the-side-of-the-road stops.  Each group had a leader and a sweep, so the entire group rode together.  Every once in a while people would change-up their positions to perhaps ride alongside someone else, but we typically rode in single file as we were sharing bike paths or roads with other travelers.
If you are a hard-core bike rider looking for a great hill-climbing or conditioning workout, this was not the trip for you.  On the other hand, if you like to ride a bicycle, but are worried that this type of tour would be too demanding, you can banish that fear.  The abilities and conditioning in the group clearly ranged from one end of the scale to the other: from the hard-core to the duffer.
I will say that the riding was very pleasant.  The bicycles were comfortable and the scenery was ever-changing.  Pretty much the only hills we encountered were for bridge over-passes or going up or down a dike.   The touring turned out to be a delightful way to meander along canal-side bike paths and through one cute little village after another.  There is absolutely no way one would ever see as much village life detail had one taken a train or driving tour of the Netherlands.  It could not be beet in that respect.
Every evening we were treated to a fabulous dinner creation by our on-board chef Lars.  Typically we would have soup or salad for a starter, then a pasta, seafood, or meat dish.  Always plenty of bread and vegetables were served.  Lars also prepared non-meet dishes for those desiring vegetarian.   Every meal was finished with a gourmet dessert.  All-in-all, Lars did a a wonderful job!
After dinner, Patrick would lead a walking tour of the town we were staying in.  This was optional and typically about half the group participated, as the others just wanted some down time.
Although the Lena Maria barge is somewhat minimalistic (no television, no air conditioning and two single beds per cabin), we slept comfortably and didn't lack for any needs.  The showers are good sized, there was always plenty of hot water and the windows even had bug screens!  I should add that we were pleasantly surprised to learn that Wifi was always available.  Jill and I concluded that we would have no qualms about doing another similar bike and barge tour in the future.
Day 7 – Tuesday
Today's highlighted tour was a tour of the inside of a working Dutch windmill and an adjoining micro beer brewery.  What a delightful tour!  When I say a working windmill, that is exactly what it was.  The windmill was staffed by three volunteer millers who showed us how the blades were moved manually to face into the wind, how cloth sails could be added to the blades to increase the effectivity of the blades, how the grain was hoisted up into the crushing room, how the stones could be adjusted to accommodate different types of grain and wind speed and a host of other working details.  I found the tour fascinating.  It never fails to amaze me how clever people can be in coming up with ways to achieve an objective.
While the brewery was not formally associated with the windmill, it was leasing space in the same building.  We were treated to an explanation of the beer making process and were given samples of the award-winning brews that had been produced there.  Luckily there was not much riding left to do after the tour!
Day 8 – Wednesday
Today was the group photo shoot, which is why just about everyone is wearing a Pegasus biking jersey.  After another very pleasant ride through the Dutch countryside, we ended the day in the town of Arcen about mid-afternoon.  The highlight of today's tour was a visit to the castle and gardens of Arcen.
The castle grounds are extensive, as are the gardens.  The castle is surrounded by a moat and high walls which would have served to keep the nobles separated from the the commoners.  Jill and I wandered through the castle noting how we all lived better lives now that the nobility of several hundred years ago.  The gardens are beautiful and worth visiting.
Day 9 – Thursday
Alas, just two days of riding remaining.  As opposed to the pancake-flat terrain of the northern Netherlands, we were now in the rolling hills territory of Limburg.  The hills did not affect our riding, though, as we largely followed the Maas river, which did not gain a lot of elevation.  In fact I looked up our altitude – we were only 30 meters (about 100 feet) above sea level.  so in six days of riding, we had gained about 15 feet per day.  Not much in the way of a climb!
Today we crossed the Maas river a couple of times on small ferries.  We stopped for a tour of a "forgotten fruits and vegetables" farm.  The idea here was that a rather large cooperative staffed by volunteers was growing fruits and vegetable that were formerly quite common, but have largely been replaced at the dinner table by commercial scale farms.  We saw quite a few items that looked somewhat familiar, like multiple vartiations of carrots, for example, but that also looked different than what you would find in a grocery store.  Interesting idea!
Day 10 – Friday
Today is the last day of riding and we had to meet the barge by 3:00 PM, so it was a shorter day of riding than normal.  We visited the picturesque and historic town of Thorn (pronounced "torn"), which consists of a large number of whitewashed dwellings.  The story goes that a tax was levied in olden days on a dwelling based on the number of windows the house contained.  Presumably this was something easily determined by a tax collector without having to enter the house.  The residents, in turn, bricked in many of the town's windows and painted over all the brick to hide the alteration.  We heard variations of this story elsewhere in the Netherlands, so presumably it was true.
It just goes to show that when the government imposes a wealth tax, the citizens get inspired to inspired to avoid it.  Hmmm.  Could be that we will soon see similar antics in the United States.
Days 11-16: Saturday to Friday
After a last breakfast on the Lena Maria Saturday morning, we all said our goodbyes to our new friends.  Some people were heading directly home and others were extending their European vacations.  Jill and I had made reservations to spend another night in Maastrict, then three nights in Naarden-Vesting and two nights in Gouda.  We used all three destinations as a base for multiple day trips.  Some scenes from our travels are shown below
In summary, we spent a delightful two+ weeks in the Netherlands.  I had previously spent quite a bit of time here for work, but Jill had only made one brief visit thirty years earlier.  We both agreed that the Netherlands are well worth visiting and we would definitely be receptive to returning again, perhaps on another bike and barge trip.
I will add that after not a drop of rain during the biking portion, it rained on us three out fo the next seven days.  Oh well, much better then than while biking!