For about two years Henry Warner has been conversing with François Montiguad of Niort, France via Skype video. François and I met through a website called ConversationExchange.com, which connects people from all over the world who wish to improve their foreign language skills.  It is patterned somewhat after a dating website, in which each member posts a profile, then contacts or replies to others who look like they may be a good language-learning partner.
In the Fall of 2012 and in anticipation of a two-week trip to France planned for September 2013, Henry Warner was determined to improve his self-taught French skills.  François was interested in improving his English, so we started talking. We settled into a pattern of doing a nearly every Wednesday call for two hours.  The first half hour is in French, the second in English, then again French, then again English.  Except for vacations and other interruptions, we have managed to connect most Wednesdays for two full years now. While François's English has always been much better than Henry Warner's French, I am happy to report that due to François's help and patience, my French has improved considerably.
As we got to know each other, it became clear that we had a lot in common.  We are close to the same age, both married, we each have two daughters that are just a few years apart.  We both enjoy wood-working and home remodeling.  I have built two houses and renovated several rental houses.  François and Nicole live in a historic home that was formerly a stone barn in a grand estate that they extensively remodeled over a seven year period. We are both landlords.  We are both interested in the culture and way-of-life in each other's country.  I am an engineer by background and François is a physical therapist, so we both have an interest in how things work.  We are also both serious about exercising and eating healthily.  We found that we also share similar views on politics and have concluded that politicians are the same here and there.  Our discussion topics range from world events to the differences between wiring a home in France versus the US.  To the surprise of both of our wives, we never suffer for a lack of things to discuss. Oh, and by the way – we both enjoy wine!
As our conversations developed some history and through the magic of Skype video, we took tours of each other's homes and learned a lot about the regions that we each live in.  One thing led to another and after about a year of talking we decided that we would each make a visit to the other's home.  As François is still working and had never before visited the United States, I had every expectation that Jill and I would be the first to make the trip.  But one day François announced that he had decided that he and his wife Nicole would come to visit us on Bainbridge Island!  To his credit, François did a terrific job of researching Washington State and the surroundings for trip ideas.  Entirely on his own, he planned a trip that would take them from Paris to Seattle/Bainbridge Island, then a driving trip around the Olympic Peninsula of Washington, over the Strait of Juan de Fuca by ferry to Victoria, then to Vancouver, BC, then back to our house on Bainbridge.
As we iterated back and forth about the details of their trip, we decided that we would accompany them for one day to visit Lake Quinault in the Olympic Peninsula.  We also decided, at my suggestion, to take a four day trip to northern California to visit San Francisco and the Napa Valley/Sonoma Valley wine country. As François is a French wine connoisseur, I thought it would be nice for him to see America's best known wine area for comparison.  I joked with him that it would be good for him to try some "good" wine.
The weeks passed by and we discussed elements of their upcoming trip.  We fine-tuned the plans and ended up creating a day-by-day spreadsheet of everything we wanted to do and to see.  Finally, it was time for François and Nicole to come to America!  They drove the 4+ hours from Niort to Paris to spend the night with some relatives.  The next day they boarded a United Airlines flight to Washington DC, then on to Seattle.  Jill and Henry Warner checked the status of the flight then took the ferry from Bainbridge to pick them up at the airport. Since the flight was not expected until after 8:00 PM, we decided to have dinner out and ate at Grazie's in Tukwila – one of our standard eating-out places.
I had coordinated with François to meet him at baggage claim if all else failed.  Since we knew their flight and arrival gate, we chose instead to wait where we expected them to exit the controlled area.
Fifteen minutes after their plane had ostensibly landed, several plane loads of passengers had already passed by us with no sign of François and Nicole.  We were getting a little anxious that maybe we had miscalculated and that they had actually exited elsewhere.  But then, there they were!  We did a round of greetings in French and English, collected their luggage, then we were off an running to catch the next Bainbridge-bound ferry.  François did a good job of staying awake during the ride home, but poor Nicole couldn't stay awake as the car lulled her to sleep.  We didn't get home until after 11:00 PM, which translated into about a 24 hour day for them.
Thursday September 4 dawned sunny and clear.  A perfect start to their first full day in the New World!  We had reserved the first day to be a jetlag recovery day, with no high energy requirements.  We started the day by cooking them a "typical" American breakfast.  I sauteed onions, mushrooms and peppers, then blended them into a scrambled eggs dish.  We also served latte's, tea and toast.   It was a lot of food for breakfast and it turned out to be more than they really wanted.  For the entire rest of their stay, we dialed the breakfast down to just coffee/tea and toast, which was more typical of how they eat in France.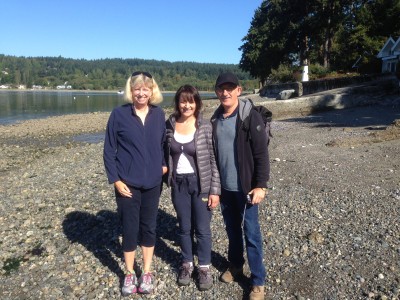 We followed breakfast with a delightful late morning walk on the beach.  We took Winslow and Brillo, even though Brillo walks slowly and doesn't enjoy walking on the rocky beach.  By the time we had walked to the park and back, a couple of hours had passed and we had all gotten to know each other better.  Both Jill and Nicole professed to not speak much of the other's language, but each tried.  We learned that Nicole speaks better English than had been advertised.
Henry Warner had wanted to bake them a blackberry pie so that François and Nicole could savor one of our favorite late summer delicacies.  François and I hunted for berries and managed to find enough for a pie, but I was disappointed to discover that the wild berries had already peaked due to the early and hot summer.   Nevertheless the pie turned out to be acceptable, although not great.  To round out the afternoon, watched the Seattle Seahawks play Green Bay for the NFL season opener.  I had previously discussed American football with François and, as he is a fan of French rugby, he seemed to be following the game with surprising interest.  Nicole quickly gave up, though, and decided that sitting in the warm afternoon sun on the deck was more enjoyable.  By the second half, we all agreed and we joined her outdoors.
On Friday we headed to Pt. Townsend for the annual wooden boat festival.  François is a skilled wood-worker and he has a keen interest in boats.  He had earlier indicated to me that the wooden boat festival would be a great outing.  It was another gloriously sunny day – perfect to be outside touring boats on the water.  Despite our best efforts, though, we were not able to convince François to buy a boat – even though we offered to provide free moorage for him until his next return to the US.  While no boat purchase was made, we did not leave Pt. Townsend empty-handed.  While touring an antique store, Jill had been admiring a particular aperitif set in Nicole's presence.  François and Nicole ended up buying the shockingly expensive set for Jill for her upcoming birthday.  Thank you François and Nicole!
Saturday was even sunnier and warmer than the previous days, so we decide it would be a great day to motor to downtown Winslow/Eagle Harbor on Bainbridge Island.  In reviewing my store of photos, I discovered that we failed to take a single picture of our guests on this outing.  Nevertheless, we spent a delightful afternoon lazily cruising the southern circumference of the Island, while enjoying lunch and drinks on the boat.  We tried to reserve a slip on a private marina in the harbor, but none were available.  When we got there the public dock was completely full.  We were about to give up and look for a mid-harbor buoy when some very nice people in a docked sailboat offered to let us raft off their boat.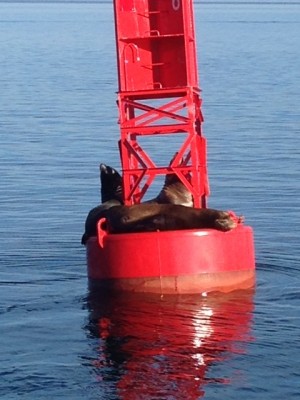 We walked around town, visited the Bainbridge Historical Museum (our first time there), shopped and did some wine tasting.  We did spot some sea lions on the navigation buoy near our house on the return trip, so our French visitors were treated to some of the local wildlife.  François would have loved to have seen an Orca whale, as we have discussed Orca's in previous conversations.  Alas!  No Orca's were spotted on this trip.  He also would have loved to have seen a wild bear, but unfortunately (or perhaps luckily) the chances of spotting a wild bear are even lower than spotting an Orca.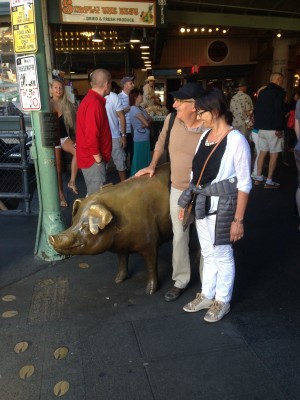 Sunday was another fabulously sunny day (I know everyone is getting tired of hearing this), so we all hopped on the ferry to explore downtown Seattle.  We walked along the waterfront shops and to Pike Place Market.  We stood around for more than a few minutes hoping to photograph a display of flying fish, but nothing happened while we were there so we gave up and continued ambling through the Market.  After touring Westlake and Nordstrom, we walked from the uptown region south to Pioneer Square.  Although we stopped for refreshments, it was clear that Nicole's energy was waning, so we headed back to the ferry terminal for the ride home to Bainbridge.  Per the routine we had established, we cooked dinner at home and had a long after-dinner conversation in a mixture of French and English.  We always had three people who could understand any discussion, so often the conversation was repeated in the other language for the benefit of the fourth.
On Monday (which finally dawned overcast), we had planned an early start to the day.  We had an appointment to pick up a rental car for François and Nicole, as this was to be the start of their driving tour through the Olympic Peninsula, Vancouver Island and Vancouver, BC.  I deliberately let François handle the dialogue with the rental car agent in order to build his confidence.  However, this particular agent talked quite rapidly and there was some complicated discussion about pre-existing marks on the car and liability issues, so I stepped in to assist François.  In short order we were caravanning our way to Lake Quinault.  Even better, though, François and Nicole were not bothered by a single rental car issue during the entire ensuing week!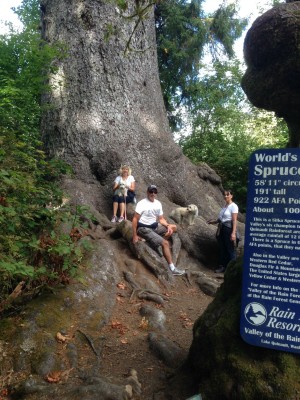 As Jill had never visited Lake Quinault and as Henry Warner had not been there since high school, she and I made it a two-night stay.  François and Nicole stayed just one night, as they were departing the next day to visit La Push and Forks, then catch the ferry in Port Angeles to Victoria, BC.  By the time we arrived at the Lake Quinault Lodge, the sun was shining brightly and the skies were clear.  We decided to take a hike on a couple of the nearby rain forest trails.  Luckily we saw no rain, but we did see plenty of forest, including the world's largest spruce tree.  I was amazed to see that so many magnificent trees had survived the ax of early settlers and lumberjacks!
François and Nicole were on their road trip until the following Sunday evening.  Henry Warner picked them up at the car rental agency while Jill reserved us a table next door at the Tree House Restaurant.  We shared a pizza and drinks while listening to songs by a husband and wife singing duo.  For the next few days we stayed local in anticipation of our flight to San Francisco on Thursday.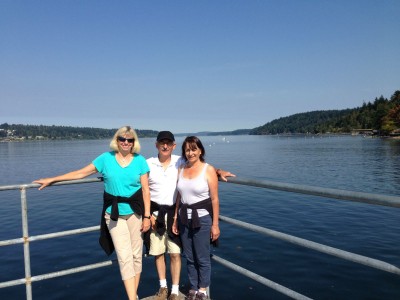 On Monday morning (another beautiful sunny day) we took a walk along the shore  on Pt White Road and Crystal Springs Road.  We admired the waterfront houses as we walked along practicing our language skills.  We stopped at the Pt White public dock to take pictures.  Total elapsed distance about four miles.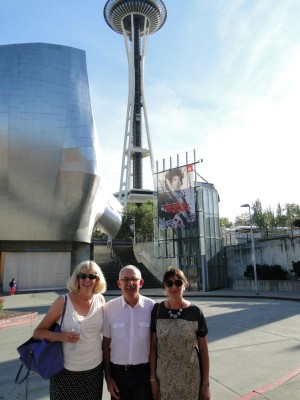 Later that day we took the ferry to Seattle for a memorable dinner at the Space Needle.  Once again, as Jill had never eaten at the Space Needle and it had been about 15 years since Henry Warner had eaten there, this was a good touristy-thing for us to do with our guests.  The view was spectacular and the meal and service were quite good.   François had been pre-warned that the meal was not going to be cheap, so hopefully there was no sticker shock.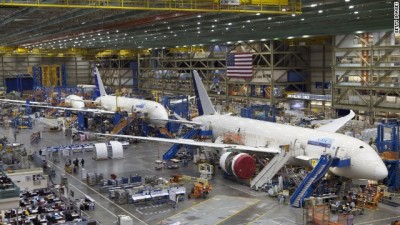 Tuesday we took the Kingston ferry to Mukilteo in time to arrive in Everett for the late morning factory tour.   We viewed the 747, 777 and 787 assembly lines.  Being a retired Boeing employee, Henry Warner probably got a bigger thrill from the tour than the others, but it appeared that everyone enjoyed the tour and found it interesting.  After lunch, we drove south to Woodinville to tour the St. Michelle winery.  After the tour we enjoyed sampling the tastings.  I mentioned to our guide that we had visitors from France with us and the lady tour guide immediately latched onto François as the resident wine expert.  Even though he had to answer a few questions, it all worked out well, though, as she poured us an extra sample!
On Wednesday morning Jill and Nicole went into town to do some last minute souvenir shopping, so François and Henry Warner decided to take a hike.  We have a trail system close to the house that takes us up a decent incline to a small lake in the woods.  François and Henry Warner had a very pleasant walk communing with nature getting a bit of a workout.  As we both enjoy walking and hiking, this was a good way to close out their stay on Bainbridge.  On Wednesday afternoon, we hosted the local Bainbridge Island French Conversation group.  This group meets every Wednesday afternoon from 4:30 until 6:00 PM, alternating locations in various members' homes.  I have hosted the group several times, so I made sure that I was on the calendar to host during their stay.  The agenda is quite simple: the host provide vin et fromage and the guests provide French conversation.  Several of the members (who are mostly women) are native French people, but most of us have learned it as a second language.  François and Nicole were the star attractions of the evening.
Early Thursday we caught the bus, then ferry to Seattle and walked to the Pioneer Square light rail station.  After a relatively brief flight we were in Oakland, CA before noon.  We hunted down the rental car, then wound our way across the SF bay and up the 101 to Sausalito.  We had lunch in Sausalito, then wandered through several high end art galleries.  While we saw some very impressive art work and paintings, the display that made the most striking impression on me was a man's leather coat done in bronze.  It was mounted on the wall to look like it was casually hanging there and it totally fooled me.  We had wanted to stop in Sausalito because Jill and I wanted to investigate a boat for sale in the marina.  We had made previous arrangements with the broker and verified with François and Nicole that they were OK touring  the boat.  The boat in question was a 2006 Meridian 459, which is a model that we had caught our interest while visiting the Dock Street Marina in Tacoma.  After a quick tour, we decided this was not a boat we were looking for.
The next stop was at the vacation rental house we had reserved in Novato.  We picked this house because it was newer, cute, met our accommodation needs and was centrally located between the Napa/Sonoma destinations we had in mind and San Francisco.  Shortly after arriving, the owner lady came over to meet and greet us, bearing a bottle of their own recently bottled red Zinfandel wine.  We enjoyed the wine with dinner that evening and all agreed that it was quite respectable.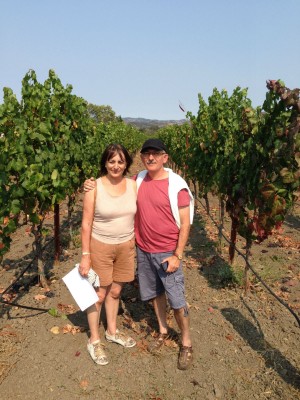 We spent all day Friday visiting the wineries at Artesa, Elyse, Peju and Buena Vista.  We are wine club members at Peju and Elyse, so we were treated to a little extra attention during our tastings.  In particular at Elyse, one of the owners took us for a private  tour of the winery and stories of their early days.  We had lunch in Yountville, then cooked dinner at "home".  Friday was a beautiful, sunny day and the Napa & Sonoma Valleys looked inviting in their pre-Fall colors.  Much of the grape crop had already been harvested, but  some grapes were yet to be harvested.  We could see that François was processing the American wine scene.  He could definitely tell that California wines were different than what he was used to from France.  But it was not clear that he was all that impressed.  Watching him sample American wines reminded me of the old saw:  a good wine is a wine that you like.
We spent Saturday in San Francisco.  Unlike Friday, Saturday was gray, overcast and downright chilly at times.  We visited the Presidio, Lombard Street and the San Francisco waterfront.  By mid afternoon we were ready to move on, so we crossed back over the Golden Gate Bridge to try to get some better views than had been available during the low overcast of the morning.  There were definitely some stunning views, but the hills overlooking the Bay were cold and windy.  We kept going in a northwesterly direction and crossed the Marin Headlands to Fort Cronkhite.  We got out of the car and walked the beach a bit, but it was raw and windy and we were glad to get back into the car.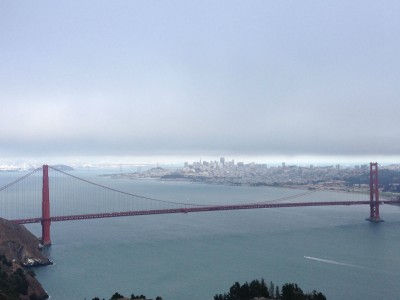 On Sunday, which was François and Nicole's last full day in the Americas (after 17 days so far), we decided to take a driving tour along the coast.  The weather was a little cool as we started, but warmed up and cleared off throughout the day.  The drive was scenic and uncrowded as we headed southwest out of Novato towards Point Reyes.   We rounded the curve to head northerly along miles and miles of oyster fields along Tomales Bay.  We stopped in at one oyster outlet and I talked to some of the locals.  They told me that the native oysters were long gone and that all we were seeing were oyster farms.  Nevertheless, the area is quite scenic and well worth the visit.
We continued northward along the coast and made it to the outskirts of Bodega Bay where we parked the car and did a moderate hike down to the beach.  The day was pleasant, but not hot, so we could walk along the beach without getting chilled.  After hiking back to the car we lunched in Bodega Bay.  Heading eastward out of Bodega Bay, we stopped in the hamlet of Bodega, which is where Alfred Hitchcock's The Birds was largely filmed.  We spent some time in one store that is dedicated to memorabilia from the director and the movie and we learned a few "secrets" about the film production.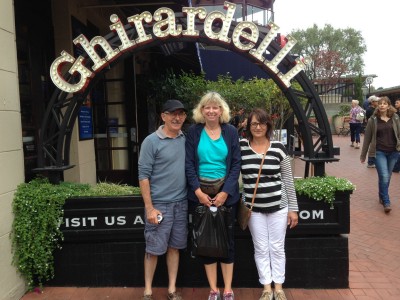 Leaving Bodega we headed north-easterly to the Dry Creek area north of Healdsburg, as we wanted to stop in at the Mazzocco winery, which is another wine club we belong to.  We like their Zinfandels and we wanted to get François's opinion.  Once again it was hard to tell how well he liked the California Zins.  We wrapped up the day by going out to dinner at a nice Italian place in Novato.  But before we left for the restaurant, we were treated to the sight of about a dozen wild turkeys foraging in our hosts's vinyard.  Then, as we got into the car, we spotted several deer right across the street.  That's as close as François got to seeing a wild bear!
Monday morning we were all heading out.  Jill and Henry Warner back to Bainbridge Island and François and Nicole back to France.  Since our flights left within a couple of hours of each other's, we drove to the SFO airport together.  After a heartfelt goodbye of hugs and handshakes and a few tears, we bid them adieu.  We promised to reciprocate by visiting Niort next year.  Thus ended François and Nicole's first trip to America and Canada, or the New World as I like to remind him.  It was an epic trip indeed, lasting from September 4 to September 18.   François is already talking about his next trip to the US, so it must have been OK for them!