Jill and Henry Warner departed their Pleasant Beach house on Friday, July 11 for the start of eight days aboard Marathon, our 32′ cruiser. The trip began by rowing from our beach to our mooring buoy three times in order to complete the provisioning. For the first trip, I rowed our two bicycles and about half a dozen bags of mostly dry goods and bed linens/towels. The second trip, Jill rowed out with our frozen and refrigerated items while I secured the house. The third trip was to get us and the dogs on board. Finally we were on our way!
We motored leisurely to Eagle Harbor on Bainbridge Island, which took us about an hour and half. Along the way, I noticed that the port engine was running a little warm at 180 degrees, versus the normal 160. I kept an eye on it and we made it to our moorage without incident. More about this later.
Eagle Harbor is in the downtown area of Bainbridge Island in the area called Winslow. In times past, Winslow was the only incorporated town on Bainbridge Island, but in the early 1990′s the residents of Bainbridge Island voted to make the entire island one city. While we have rarely taken our boat over to the Eagle Harbor marina, we concluded on this trip that we should come more often, as Winslow is a cute as an other Puget Sound harbor city and has all the amenities a boater needs.
Friday July 11 was quite warm; probably about 90 degrees Fahrenheit. We cooked dinner on the boat, then walked into town and headed for Mora's Ice Creamery to cool off a bit. We wandered back to the boat slowly, stopping at the Town and Country grocery for some provisions. Back at the boat we readied for bed in surely the warmest temperature we had ever endured for sleeping while on the boat. Other than the small built-in fans in the main cabin and one tiny wall-mounted fan near the head of the bed, the air was still and warm. There was no perceptible wind and it just did not cool off very much that night, which is a fairly rare condition for the Puget Sound region. We woke to another very warm morning and concluded we need to augment our cooling capability, as the upcoming week was forecast to remain warm. As corroboration of the heat, I overheard two boaters talking on the dock Saturday morning in which one of them stated it had been the most miserable night he had spent on his boat.
I used the morning relative coolness to try to figure out why my port engine was running warm. I cleaned out the raw water inlet strainers for both engines, then disconnected the port engine's raw water inlet hose from the through-hull valve and fitting. Sure enough, the raw water just gurgled into the bilge, rather than squirting up the normal six or so inches when the inlet is unobstructed. Since we had just had the boat hauled out and bottom painted a bit over a month earlier, I was surprised and disappointed to deduce that my inlets were not clear.
Since it was already turning into a hot day, I convinced myself that this would be a good opportunity to try free-diving under the boat in my wetsuit to see if I could clear the obstruction. Armed with a knife, my mask and wetsuit, I jumped into the murky marina water and rather quickly determined that this was not going to work very well. I could only see about a foot under water, plus I was having a hard time holding my breath for any substantial length of time in the cold Puget Sound water. I figured it was not a smart move to grope my way under the boat in a wetsuit that was trying to pop me up like a cork while holding my breath.
We called over to the marina office and were given the number of a local diver, Bruce Macaly. Luckily, Bruce was already in the marina and he was able to attend to our issue in short order. He was under the boat not more than 30 seconds before water was gushing fountain-like through the hull, as expected. He then scraped a little on the starboard inlet and was back out from under the boat in about one minute. He informed me that there was no marine growth on the inlet ports, just as I would have expected from the recent bottom-painting. He said we had ingested some kelp-like plant matter around both inlet ports that he was quickly able to clear. Feeling relieved, we gladly paid Bruce his $100 fee. This worked out to about $6,000 per hour of actual dive-time – not a bad rate if you can get steady work!
We left Eagle Harbor about 1:00 PM for Arabella's Landing in Gig Harbor. Both engines ran at 160 all the way, so our issue had indeed been resolved. We have stayed at Arabella's Landing several times in the past and we enjoy its location and amenities. Saturday night we went to dinner at Brix-25, which is a restaurant we have enjoyed every time we visit Gig Harbor. We enjoyed a bottle of Angel Vine Zinfandel, which we first discovered at this restaurant five or six years ago.
Sunday morning we went for a two-hour walk around the town and up the hill to the Fred Meyer shopping plaza. I have found it is easy to get lazy about fitness while boating, so I make a point of trying to not go more than a day or so without doing something physical. Back at the boat after our walk, we had lunch, read the paper then I had a refreshing session of boat pressure washing to cool me off in the afternoon heat.
On Monday we departed Gig Harbor for Olympia. We had checked the tide chart before departing to try to take advantage of the tidal current. We had arranged to meet Gary and Dee Lawrence for dinner, so we wanted to get to Olympia with plenty of time to spare. My cruising guide advised it was a bit over four hours at 7 knots to make the trip. There was to be an ebbing tide (contrary to our direction) until about 1:30 PM, so we decided to leave around noon to allow extra time to fight the tide. As we motored out of Gig Harbor into the open Sound, we were cruising along at about 7 mph (my GPS is set to display miles-per-hour). When we hit the Tacoma Narrows straights, the boat speed dropped to about 3.5 mph. I left the engines at 2200 RPM, rather than trying to power through at a faster speed. For about an hour we cruised against the ebbing tide. Finally the tide changed and we cruised the remainder of the way to Swantown in Olympia with the tide helping us along.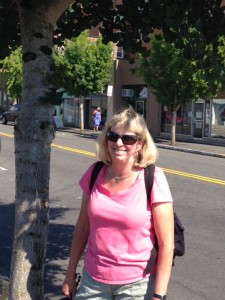 We arrived at Swantown about 4:30 PM, with a stiff breeze out of the north. We had phoned ahead for a slip assignment and luckily a gentleman from the marina was there to assist us as we docked. The moorage docks ran east-west, so the stiff north wind was hitting the boat broadside as we entered the slip. Our original slip assignment was on the north side of the two-boat slip, but Jill was not able to throw the bow line to the marina employee and run to the stern before the wind had completely pushed the stern of the boat an insurmountable distance from the pier. The helpful employee told us to just let the wind push us to the south side of the two-boat opening, rather than fight the wind. Of course we had been expecting a starboard side tie-up and this quickly changed us to a port tie-up. We scrambled to get the fenders in place in time to gently bump up against the pier, so all ended well. By then another already-moored boat owner had seen our struggle and had also come over to lend a helping hand. He commented to me that he had the same difficulty 20 minutes earlier and had likewise ended up on the south side of his two-boat slip opening.
Gary Lawrence is a long-time friend and co-worker who I first met at Boeing in the early 1980′s. I retired in 2006 and he retired about a year or two earlier. Since being retired, we have connected a few times. Gary and Dee own a vacation home in Indio, CA just off I-10. As we drive right by them on our way to our vacation home in Arizona, it is convenient to stop off for a visit. Tonight we all went out to eat at McMenamins Spar Café, which evidently is one of several old-style bars that have been refurbished and operated by four brothers. The ambiance was pleasant, the beer selection was awesome, the food was pretty good and the service was great.
The next day (Tuesday) was another scorching (for western Washington) day that again had to be in the high 80′s. We hopped on our bicycles to explore Olympia. We checked out a few lunch places in the downtown core area, then rode up the hill to the Washington State Capitol building. As the legislature was not in session and as the governor (Jay Inslee) was off to Farnborough England for the bi-annual airplane show, security was pretty relaxed (no guards at the kiosks) and we were able to wander around to our hearts content. I was carrying a back-pack, which no one challenged or asked that I check it.
I actually can claim a bit of a connection to Washington's governor. About ten years ago, Jay Inslee, who was then a state representative, purchased my step-father's former residence on Bainbridge Island. My step-father's name was Ed Ulloa and he also had political connections, in that he was mayor of the town of Winslow on Bainbridge Island before Winslow annexed the entire island. In December 2011, after Jay Inslee had been elected governor, but before he was inaugurated, my wife and I and our two daughters were eating dinner in a Bainbridge Island restaurant and lo-and-behold, governor-elect Inslee, his wife and one other gentleman sat down at the table next to us for their dinner. I had my daughter snap a quasi "selfie" of Jay and me dining together. As we were leaving, I stood next to our future governor's table until he looked up, then I introduced myself by mentioning that he had bought Ed's house. Just to show that Jay Inslee is quick on his feet and a funny guy, he responded with "I'm glad you stopped by – one of my windows is leaking". – ha, ha!
We finished exploring Olympia by visiting Canvas Works, which is actually more of a knitting and yarns supply store than a canvas store. Jill has never met a knitting/quilting store that she can pass up, so it was obligatory that we stop in. We then rode our bicycles to the Thriftway store, which was the closest full-size grocery store to the marina. Security at Thriftway was actually tighter than at the State Capitol – we were asked to check our backpack at one of the designated checkout stands before shopping. We completed our food shopping and needless-to-say, we ended up buying more than would fit in my backpack. So we meandered back to the boat with me wearing the backpack and also holding on to a full-size shopping bag that I was mostly able to prevent from catching on the spokes of my front wheel as I held the bag suspended from my front handlebar.
Our route back to the boat took along the other major marina area operated by the City of Olympia called Percival Landing. I had investigated staying there when we booked our moorage dates, but chose Swantown instead, as the Swantown marina advertised water, power, showers and laundry. Percival Landing appeared to be more of a day-stay marina, with more limited facilities. However, we noticed several private marinas in the same general area as Percival, such as Fiddlehead, that offered water and power hookups. We concluded that next year we will try to stay in that area, as it is closer to the downtown district and had a lot more restaurants and other shopping than did the Swantown Marina area.
Wednesday morning Jill and Henry Warner departed Olympia for Tacoma's Dock Street Marina under a cloudless sky. We departed about 8:30 AM, just as the tide was starting to ebb from Puget Sound, so we rode a "downhill" tide all the way to Tacoma. Through the Tacoma Narrows, we hit 13 mph, so we had close to a 10 mph difference between the against-the-tide and with-the-tide trips at the same engine speed. We had never visited the Dock Street Marina before and we were quite pleasantly impressed. It is clean and modern, with handy shower and laundry facilities. We were met at the slip as we docked by a friendly, young marina employee who later delivered ice bags to us by skiff at $2.00 per bag. Since we had paid $2.76 per bag at Gig Harbor at the only place we could find that sold ice, this was another pleasant surprise.
We were parked literally in the shadow of the Tacoma Glass Museum. The entire area is upscale and modern. In addition to the Glass Museum which features a lot of Dale Chihuly works inside and outside the museum, it is a short walk to the Washington State Historical Museum and the Tacoma Art Museum. We really liked the location and decided that it would be well worth a return visit.
After getting settled in, I changed into my jogging outfit and went for a fast walk/slow jog through the waterfront area to scope out the offerings. It was a sweltering afternoon, but I had my water bottle and was lathered in sunscreen, so the hour-long excursion did not seem that bad. I scoped out a restaurant – Johny's Dock Restaurant and Marina – which was actually only about 100 feet from our slip by water, but it took me 12 minutes to walk/jog there around the south end of the Thea Foss waterway. I concluded that it was going to be much more pleasant to take the skiff there for dinner that to walk, so I asked the wait staff where I could tie up when we came to dinner. We don't use the motorized rowboat all that much, so it is probably a good thing to fire it up and make sure it is still working. That evening Jill and Henry Warner motored over to Johny's and had a fine meal. The entire restaurant is west-facing and despite the drawn shades and air conditioning, it was a bit warm sitting by the windows. We had passed up a chance to eat outside, thinking it would have been even hotter outside, but perhaps not.
The next day was Thursday and coincidentally, the third Thursday of July. We had learned that on the third Thursday of every month, the museums in the area are free between 5:00 PM and 8:00 PM. So we spent a relaxing day walking along Pacific Avenue, visiting the University of Washington at Tacoma bookstore and looking at boats for sale in the marina. Our eyes were drawn to a 2005 Meridian 459 that we had the nearby yacht broker show us. It is a beautiful boat in great condition, so it was not too long before we were plotting and scheming how we could justify moving up from our current 32 foot Bayliner. The Meridians come with bow and stern thrusters and we watched several large Meridians come into the marina and dock as smoothly and as effortlessly as can be imagined. Perhaps someday. Or as the French say "on verra".
Thursday evening we cooked salmon for the second time this trip on the boat's BBQ. We also had a salad, couscous and wine. Just a simple and perfect meal. Tomorrow we are heading to Blake Island. If we can get a spot on the dock for the evening we will stay there, otherwise we will head to Port Orchard or Bremerton for our final night of this trip. We could anchor or tie up to a buoy somewhere instead, but that does not appeal to us as much as being on a dock, as it is a bigger hassle to get to shore to walk the dogs.
We departed the Tacoma Wharf Street Museum on Friday just before noon, satisfactorily impressed and more than willing to return again on the boat.  We puttered along the west side of Vashon heading northward.  It was a warm, lazy, hazy day – the waters were calm and the wind was nonexistent. About 3:00 PM we pulled into the Blake Island marina, which is quite small.  Being a Friday afternoon in summer, we had very low expectations of finding a berth and we were not disappointed – nothing available.  We decided we didn't want to moor at one of the Blake Island mooring buoys, so instead we headed back to Bainbridge to our own Pleasant Beach mooring buoy.
In conclusion, we enjoyed cruising southward in Puget Sound and we will definitely come this way again next summer.  We decided the next time, though, we will stay three or four days per location.  This trip we only spent one or two nights at each marina, which resulted in only one full day to explore the towns and attractions before we were on the go again.  It was a week of beautiful weather on the water and it doesn't get much better than that!