Today is Tuesday, July 26 and our month in Provence is rapidly coming to a close.  Our plan for today was to visit the coastal town of Antibes, which is about a 35 minute train ride from Villefranche-sur-Mer.  Antibes lies between Nice and Cannes in the heart of the French Riviera and is situated on a prominent cape jutting into the Mediterranean.  Today Rich, Jill and Henry Warner traveled to Antibes.  Unfortunately, Dawn was not feeling well today, so she did not accompany us.
Like every other town of note along the Mediterranean, Antibes has a long history of human occupation by various settlers and/or conquerors.  This includes the usual cast of Greek, Phoenician, Roman, Moorish and Norman characters.  These days, the town is heavily invaded by billionaires, who are not so noticeable by their presence in the streets as by their yachts in the harbor.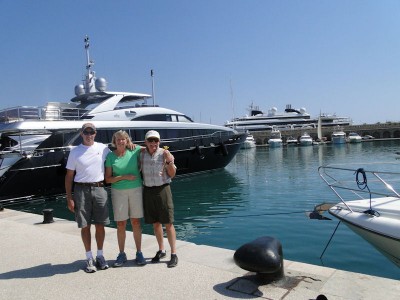 As you make your way from the Antibes train station towards the sea and the old town, you pass the boat-filled harbor that is well protected by the massive 16th century fort looming over the port.  The deeper you get, the larger become the boats.  As we were taking pictures of ourselves by one boat, a young lady offered to take a picture of all three of us together in front of a sleek black-hulled boat.  She was duly impressed as Henry Warner commented "notre bateau".  Laughing, Henry Warner quickly corrected any misconception with "non, non – je plaisante !"
Continuing to the far end of the docks, one comes to the appropriately nicknamed "billionaires quay".  Here we saw enormous boat after giant boat all moored next to each other.  Many with guards, numerous crew members and a helicopter or two on board. These yachts do not pull up to a fuel dock – the fuel trucks come to them.  The owners of these boats were not your typical IBM and Boeing retirees.  Nor even Microsoft, Google or Apple retirees.  In fact, from what we learned, there was a heavy concentration of far eastern (Saudi princes and like) and Russian ownership.  As we passed by, no one offered us a tour of their boat.
Don't get the impression, however,  that Antibes is all glitz and glamour and only for the wealthy.  Not at all!  Right next to the boat-filled harbor and just outside the eastern edge of the ancient city walls is a beautiful white-sand, public beach that was being enjoyed by a sizeable crowd of sun-worshipers on this cloudless, hot, late July day.  Unlike many of the beaches on the east coast of the US that require a paid fee, or are only for use by the residents, all the beaches in France appear to be freely available to everyone.
As we wandered inside the city walls, we quickly came to a covered market which offered a fabulous selection of the customary raw fruits and vegetables, as well as prepared foods and other offerings.  The old-town inner village streets are narrow and twisty in the medieval fashion and are pedestrian-only.  There are a goodly number of attractive shops and boutiques – plenty enough to while away a few hours of browsing and sight-seeing.
By mid-afternoon Rich, Jill and Henry Warner were getting hot and tired, so we took a break at a café offering a shaded outdoor seating area.  We enjoyed our brewskies for a bit, people watched, then decided to call an end to our exploration of Antibes.  After a long, hot day spent mostly walking, the air conditioned train back to Villefranche-sur-Mer felt oh, so good!
Would we come back to Antibes?  Most definitely!