Not much to report today.  Today is the one week anniversary of our arrival in Villefranche-sur-mer.  Like every other day since we have been here, it was sunny and warm.  The temperature has been above 80 every day so far.  Luckily the apartment is air conditioned. It was a low-key day for all of us.  Jill and Henry Warner spent a couple of hours at the beach while Rich and Dawn wandered the town.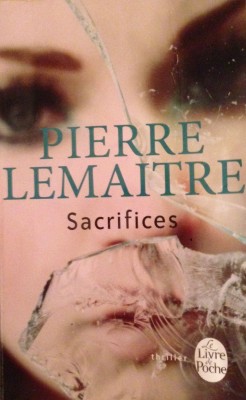 Lest the reader thinks that we were just goofing off, mindlessly enjoying ourselves and totally wasting our time at the beach, I'll have you know we were being mentally productive.  Jill read her Kindle and Henry Warner used the time to read exclusively in French.  Henry Warner is reading a French police thriller titled "Sacrifices" (pronounced "sakrifis" in French) by Pierre Lemaitre.
As you can see from the picture above, we also tried to keep our sun exposure controlled with a couple of beach umbrellas.  The Villefranche-sur-mer beach is a popular hangout and people were still streaming in to the get some beach time when we were leaving around 4:00 PM.  It looked to me like a lot of people getting off work head to the beach, even though the the day is getting short.
For dinner we went to a restaurant recommended by both Rick Steves and our landlady called L'Aparté.  The meal was easily one of the best we have had in Villefranche and we all highly recommend the restaurant.
Tomorrow we are planning to go to the medieval village of Èze.  Jill and Dawn are going to take the bus from Villefranche.  Rich and Henry Warner are taking the train to the base of a trail running from the beach up to the hilltop village of Èze at 700 meters.  Hopefully there will be more to report tomorrow!